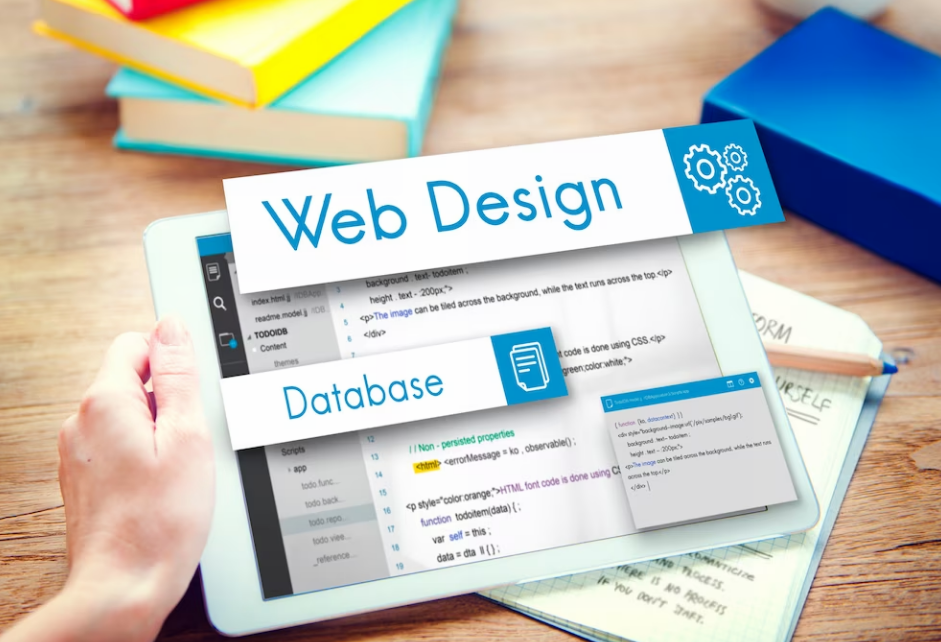 October 18, 2023
Website Design Trends of 2024: Stay Ahead with These Insights
Hey there! Ready to discover what is cooking in the world of website design? 
We're diving into the coolest webpage design trends for 2024 that'll make your online experience a breeze. Whether you are a tech person or just curious, those developments in website designs are here to make your browsing more thrilling and attractive. From eye-catching designs to clean-to-use functions, let's explore the destiny of web design trends together!
What are the Top Website Design trends in 2024?
Artificial Intelligence
Voice Search
Gradients for better UI
Visible Boundaries
Animation
Minimalist and Clean Design
Artificial Intelligence in Webpage Design
Artificial Intelligence (AI) is reshaping webpage design continuously. AI helps us to create visually attractive layouts according to our choice. The most crucial point is that we don't need coding knowledge. 
AI helps you to build a website's front-end structure and back-end solutions. All you need to tell the AI tools about your requirements: ask AI If you want a readymade Input form with style. AI will give you the HTML structure of the input form and provide you with some CSS styling. AI also guides shade and font selections, helping us to increase the overall aesthetic. 
Some AI tools with the website's User engagement reading capability help us analyze people's interactions towards the website. AI also helps to optimize A/B checking out and remove bugs from the code. Adding AI-driven chatbots to websites gives real-time personal guidance and improves audience delight.
For Example, if you don't have any coding knowledge, you can still build a website. All you have to do is tell the AI about your requirements. From web design to content writing, putting drag and drop functionality in websites to image creation, all things AI will take care of. The best AI tools for Website designs are Colormind, Kroma, Open AI, and many more. 
Voice Search to make the best website.
Voice search creates a massive revolution in Internet site design. People now use voice searches to interact with search engines and digital voice assistant tools like Alexa and Siri rather than typing. The most beautiful thing about voice search is that you can search for whatever in your local language. There is no need to search in a particular language.
Many old age people who don't know a specific language or English Can search their queries using voice search in their local language. Because of that, people above 60 years old find it very comfortable to use.
Every user expects easy-to-use tools and websites. So adding voice search is very important for the websites. The website designs need to be intuitive and capable of understanding voice activities. Websites have to ensure easy navigation. It's essential to prioritize quick loading and mobile friendliness so people don't need to visit another website.
By using voice search, websites can improve user experience and engagement. Nowadays, everyone prefers Speaking more, so we must give them proper information according to their search query. The pages should include structured data and user-friendly webpage design, and the essential thing is that websites need to focus on local language content to engage people with their websites from different areas.
Complex gradient for better-looking UI
The complex gradient is the effect of multiple colors, shapes, and transitions. These gradients make web design more attractive and visually appealing. The current generation looks after visually stunning websites like Webifly, ChatGpt, Hostinger, etc. They don't like old type one-color websites. Adding gradients is essential to the websites. It will attract people so that websites can reach the most people. 
Focus on simple light color gradients so users can read the content properly with dynamic and modern backgrounds. It will be visually more attractive and eye-catching to people.
Gradients can add more depth and dimension to website designs, and it will improve your brand identity if you make your brand's logo with gradients and transitions, making your brand's logo visually appealing. 
Colors evoke emotions, and gradients can help create a good website atmosphere. By adjusting contrast and brightness, you can make your background more appealing to improve your website's user engagement.
Visible Boundaries for Better-looking AI
Visible boundaries in webpage design are like the border, which helps to separate different areas and contents. Adding visible boundaries makes your website visually attractive and clean for the users. They can easily separate things so that they can read easily. 
For Example, You can separate your website's header, menu section, and footer. So that users can find each space on your website easily. It will boost user engagement on your website.
Boundaries can show users every important thing about your website; They can highlight any important thing like images, headlines, and buttons with a visible frame-like border. Adding all these to your website allows users to find important information quickly. It will help to increase the user engagement.
Users can easily separate everything like email, password, and name by adding visible boundaries on input fields. It also helps to create a comparison table where two things compare. It will improve user readability and user engagement.
Using Animation to make the best website design
To make an appealing web design, animation is an essential subject in today's digital world. Users are more attracted to websites that contain animations. These websites are more visually appealing. Animation is like simple waving, changing colors, or if you scroll down and suddenly an image appears that will be more eye-catching. Users will find it more attractive. 
Animation has visual storytelling power, like animations on images can help users understand the content or any article more easily. It will improve the website's web accessibility, and users will prioritize our website.
We can also add animations on buttons. For Example, if we add animations on buttons and users hover over them, the buttons change, making them more visually attractive to the users. 
When Users scroll down a webpage, something like "Hey" suddenly appears! Try this out" with a cartoon; these things will catch the attention. Using this, we can easily redirect any user to our targeted webpage. We can achieve this by using Animations. It will be more appealing and attractive for any Internet site design.
Minimalist and Clean Design for a better-looking website
You must focus on minimalist and clean design to make a more beautiful UI. Users prefer simple & straightforward designs. To increase User engagement, you have to build content with accurate points that are enough to understand for a user. You have to make the design clean so users understand everything easily. 
You should put only the required things on the website—no need to add additional things. In minimalist design, you have to make things short and straightforward. Straightforwardly create the website so that anyone can find anything on your website easily. 
Choosing the right colors and font and selecting the correct images are significant. Users are only attracted to seeing these things on a website. Using the right things in your web design can increase user engagement. 
The most important thing is the website has to be mobile-friendly. You have to focus on the website speed. The website has to be structured, and images should be optimized. So that users can get whatever they want instantly.
Conclusion 
You have to stay ahead with the latest website design trends. Using the latest trends, you can quickly increase User Engagement on your website. Building the structure with AI tools and then taking help to create content can be very cost-effective. Using voice search, complex gradients, and visible borders on your website can help attract users to visit your website. You can make readable content for users using Animations and Clean design. Users will visit the website again and again. You will surely increase the traffic if you contain all these trends on your website.