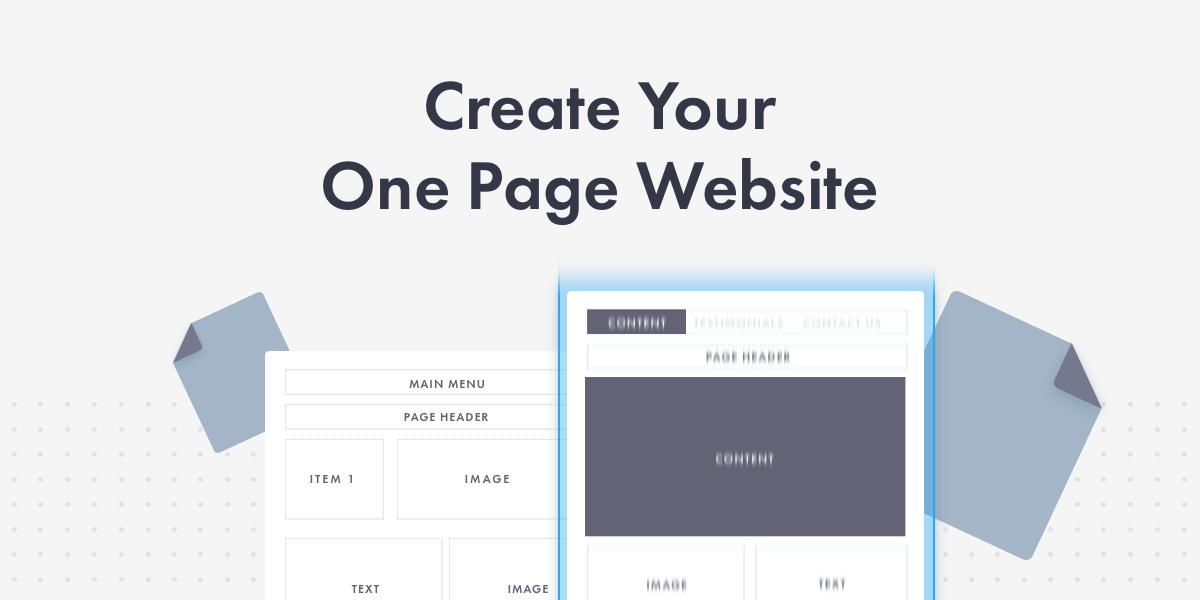 November 8, 2023
The Easiest Way To Make a Single Page Website
To grow a business, having a website is very important. Whether you are a student who wants a portfolio, an entrepreneur, or looking to share your blog with a broader audience, having an online presence will help you to achieve this. What if you don't have the time or expertise to build a full-fledged website? The solution is a single-page website. 
What is a one-page website?
The one-web website is a single web page containing all the data you want to show the audience. You can put the Header part, footer part, and other vital sections on a single web page. It's an attractive and visually appealing process to showcase your portfolio or promote your brand. The good thing is you don't need any coding knowledge to make a single webpage website. Below, we will discuss the steps for creating a single webpage website.
What are the most comfortable ways to make a single-page website?
Define your purpose for making a single-page website.
Whenever you build a one-page website, you must clearly understand why you want to create a single-page website for your business or any other purpose. 
Whether you want to show your portfolio, promote your brand, or offer your product to the customers. You should know why you want to make your business's online presence with a one-web-page website. 
For example, if you want to start a food-selling website, You should know which things you want to show the user first or what you want to highlight. Then, it will be easier for you to choose suitable templates and build the content structure, color, and layout accordingly.
Choose the right platform to build a one-page website.
To establish a robust online presence, choosing the right platform is crucial. For building a single-page website with pre-built templates, Webifly is an excellent choice. Although there are many competitors, Webifly stands out due to its unique features.
We offer eye-catching website templates with the latest web design trends and hosting rights for your website. At Webifly, we provide several customizable templates with drag-and-drop functionality. 
Our Virtual Assistant team can help you create and manage your website from scratch. Hire our VA, who will work with you to meet your specific requirements.
Selecting a custom template to build a website
After selecting the appropriate platform, the next step is to choose a customized template that suits your website. While most templates are one-page website templates, other options are also available.
You get attractive and visually appealing templates on the platform; you have to select one of the templates according to your niche and requirements. Later, you can manually customize the color, logo, content structure, and other things for a more visually appealing Website.
Customize the content according to the business.
After selecting the template, it's the time for the most exciting thing to do is customize the content according to your business. You have to build the content, put all the images in the right place, and change the suitable color according to your needs. 
You can add your business logo, change the background to visually attract gradients, and add a call-to-action button like Join now, contact us. It will grab the users' attention; they will be more comfortable reading your content. It will be beneficial for increasing the user engagement. 
Webifly provides you with CMS templates. You can add your content or blog or re-structure the webpage whenever possible. There is no coding knowledge required. 
Optimize the website for mobile friendliness.
In this digital world, people primarily use mobile devices for casually browsing social media to search for any queries on search engines, among many other things. Mobile is very comfortable to carry. We have focused on the template we have chosen, which should be mobile-friendly. 
For example, the website should contain a faster page loading speed, the content should be in the proper place, and you should check that no elements are placed over one another. By optimizing all these, you can able to fix the user experience. 
Webifly's templates are mobile-friendly, so they will save cost and time. 
Adding Navigation 
You should add a navigation menu allowing users to jump from one section to another of a webpage. Most of the website builder has this inbuilt functionality. If they still need to include the navigation menu, You should customize this from your side. 
Why should you put a navigation menu on your website?
The most straightforward answer is to make the user experience better. For example, you can put a navigation menu if someone visits your website and wants to see a particular section. Users who click that part will smoothly scroll to the different parts of the website. It is relatively faster for them to redirect from one section to another. 
Maintain and Update 
Making a single-page website is a project that takes time to complete. You have to maintain the website according to the trends. You should update the content regularly and add new projects and achievements to maintain user engagement. Page loading speed and technical elements are the most important thing for a good review and user engagement of your website. It would be best if you kept them accordingly.
If you build your website with Webifly, they will take care of your website. You don't need to think about the maintenance and the regular updates. 
Conclusion 
Creating a one-page website has always been a challenging thing. Thanks to Webifly – the user-friendly website builder platform. With a clear purpose, a suitable template, and some creativity, you can quickly build a single-page website and promote your business. 
Creating a simple, visually appealing, and mobile-friendly website is crucial while maintaining regular user engagement. So, what are you waiting for? Start building your one-page website today, and let your online journey begin!