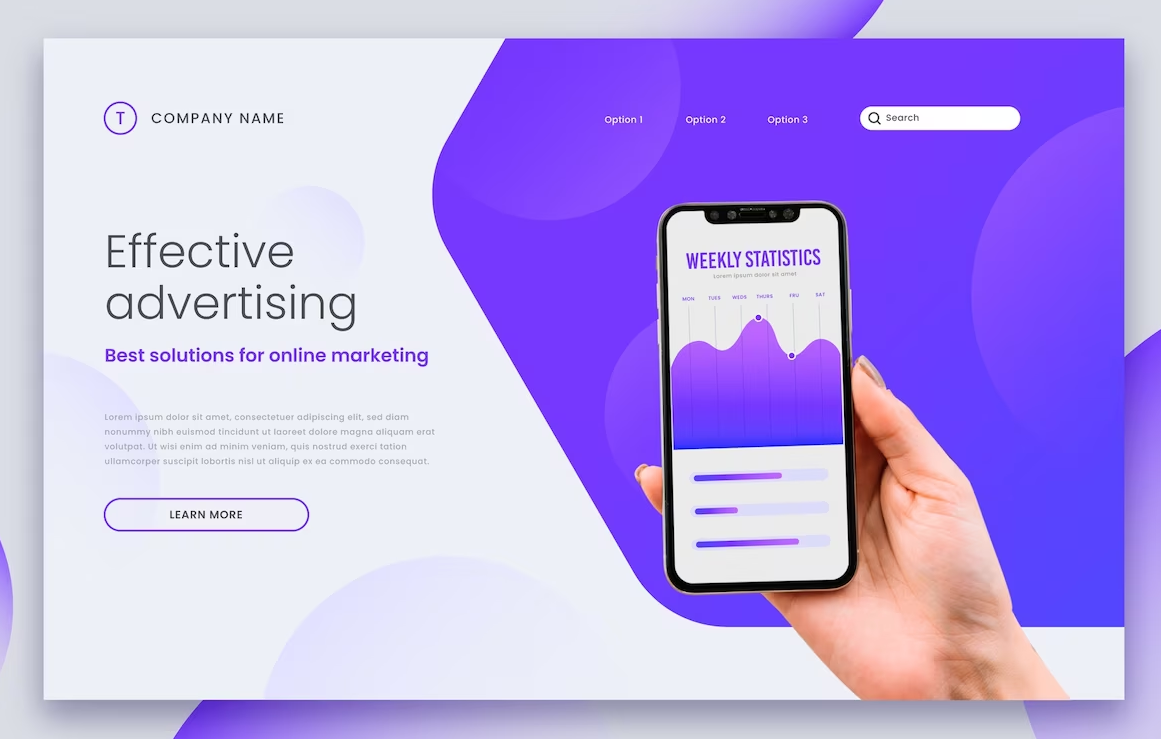 November 8, 2023
How to Create a Landing Page in an Hour?
To grow businesses online, you need a user-friendly website to establish a professional online presence. Business owners apply various strategies to grow their businesses. For example, generating leads, selling products online, email, Pay-per-click campaigns, etc. You need a landing page to use all these strategies in your business. Webifly – The website builder is the solution to build a professional and customizable landing page. You can quickly build a customizable landing page for your business with the help of Webifly. It will save time, and it is very cost-efficient. 
This article will cover all the steps to build a landing page and why the landing pages are so effective for businesses. 
What is a Landing page?
A landing page is a single webpage designed for a specific marketing goal. It will be used to sell products, get people to sign up for leads, or want people to download the brochure you provide after visiting the landing page. You can attach the landing pages with email marketing campaigns, PPC campaigns, or any social media post. You must attach a link that redirects users to the landing page. The landing page should be clean, well-designed, and contain an informative topic that users attract to your website and will help fulfill your goals. 
Why are landing pages suitable for your business?
Suppose you are running an e-commerce website and want to gain customers quickly. We need to run a campaign to understand who is interested in your business products. Promote your products through email, PPC campaigns, or organic social media posting. You can select the kind of audience you want by choosing the demographic, age, behavior, and many other things to get an accurate audience interested in your products.
We must include a landing page with a call to action button for users to buy products or achieve goals. The cover image should be beautiful and relatable so that the users who see the campaign on social media should click on the link you provide. After they click, it's your responsibility to provide them with good content that they purchase the product. It will increase your sales.
How do you create an attractive landing page in an hour?
Define Your Goal and Audience

Select a Landing Page Builder

Choose an Appropriate Template

Craft a Compelling Headline

Write Engaging Copy

Add High-Quality Visuals

Create a Strong Call-to-Action (CTA)

Optimize for Mobile Devices

SEO Optimization

Publish and Promote
Define Your Goal and Audience
Before creating a landing page, you must be clear about your purpose. For example, you want to create a landing page to collect email addresses, promote a product, or make sign-up forms. It is straightforward to build the landing page if you have a proper plan and business structure. 
You need to identify your target audience before creating landing pages because, with a proper audience, you can figure out to whom you tailor your content and design to their needs and preferences.
Select a Landing Page Builder
If you need to create a landing page quickly, consider using a webpage builder such as Webifly. You can choose from pre-designed templates and appealing interfaces to simplify the process. Our CMS pages feature drag-and-drop functionality, allowing you to add your content or customize the page layout according to your preferences. Webifly is user-friendly and straightforward, making it a popular choice among users.
Choose an Appropriate Template
It is crucial to select a suitable template that suits your goal and target audience. You can also tailor it to your specific requirements. Webifly provides a wide range of attractive templates to choose from. By selecting the appropriate template, you can enhance your business and make it more visually appealing to your users.
Craft a Compelling Headline
Use the focus keywords in the headline and subheadings to ensure that it's relevant to your audience and should be SEO-friendly. Make the headline clear, concise, and attention-grabbing to attract people to your product. 
Write Engaging Copy 
Keep the content concise and focus on your offer's benefits. Highlight critical points and use the focus keyword that naturally fits the text. 
By doing this, people will find the content is evident and engaging. They will buy your products and will convert the leads or goals.
Add High-Quality Visuals for a better-looking landing page
Put relevant, attractive quality images or videos that support your content or product and increase the page's visual appeal.
Images can describe so many things on behalf of your content, so adding attractive images would define your products. It will increase sales and leads.
Create a Strong Call-to-Action (CTA) for the landing page
Should include a CTA button at the end of the landing page. It is essential to put a CTA button so that users can purchase your product or generate leads for your business. 
The CTA button indicates a buy option or helps to collect leads. With the help of Webifly drag and drop functionality, you can put buttons, images, input fields, and many other required things on your webpage. 
Optimize for Mobile Devices
Making your landing page mobile-friendly is very important. Make the landing page responsive so it looks great on mobile devices. Webifly's templates are mobile-friendly, so building your templates with Webifly will reduce your budget and time. 
People mostly use mobile devices rather than desktops or laptops. We should focus on correctly placing the CTA button, and the content or images should be structured. 
SEO Optimization
Optimize your page for SEO by using keywords naturally in the meta title, meta description, and image alt text. Make sure to have fast page loading for a better user experience.
If people search for something related to your business, they should land on the page to convert the leads and purchase your products.
Webifly has inbuilt SEO Optimization features like WordPress. You can increase your SEO score, so whenever people search your targeted keyword, they should see your website on SERP.
Publish and analyze
Once satisfied with your landing page, publish it and share it on your desired platform like website, social media, email campaigns, etc. After publishing, you need to analyze how it works and how you can optimize it to work better.
There are many ways to optimize landing pages with analytics and data. For example, You can provide content by selecting a specific location, age, and behavior of the users on the Internet. So, you can change the content per the user's behavior so that the content or product attracts them. If the user engagement is not that good, you can change it accordingly. 
Conclusion
Following these steps and incorporating your chosen keywords naturally throughout the process can create a powerful landing page in under an hour. Remember that practice and experience will help refine your skills and create even more effective landing pages.