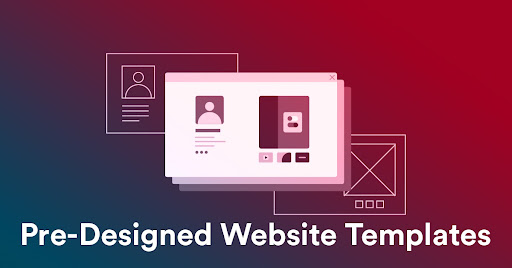 September 20, 2023
Benefits of Using Pre-built Website Templates for Your Business
Currently, people spend most of their time on the internet. Whether it is a search query or an entertainment purpose, people trust the internet for anything. So, If you want to grow your business, you need a website for the online presence. However, building a website requires hiring a developer who charges significant money. Additionally, any changes to the website require their assistance. To avoid this problem, you should use pre-built website templates to build a website instantly. You can choose templates according to your requirements; you do not require coding knowledge, it saves time, is cost-efficient, and provides you with professional and eye-catching templates. You can customize your website whenever you want. 
Pre-built website templates will give you SEO-friendly templates and provide frequent updates with the latest trends. Let's delve into why pre-built website templates are optimal for your business.
What are the benefits of using pre-built website templates for your business?
Pre-built Website Templates Save Time:
Pre-built templates save time with their ready-made website designs. You do not need to start from scratch. It gives you eye-catching designs, so you don't need to do any HTML, CSS, or JavaScript for your website. 
Using pre-built templates not only saves time but also provides content integration space. You can easily place your text, images, and other media; you don't need to start from scratch.
Website Builders are Cost-efficient:
Using pre-built templates is more cost-efficient than using manual coding templates. If we talk about manual coding websites, To start a website, you need to hire a web designer who can create a site for your business. 
They will charge a certain amount. The most important thing is that whenever you want to change anything on your website, you need to ask them for change; they will charge a certain amount again, making it very costly. Pre-built templates cut all the charges.
The only time you have to pay is to buy a ready-made template for your business, according to your choice. If you want to change something on your website, you can change it yourself. Pre-built templates allow us to do that, and nowadays, many template provider also offers hosting rights; there is no need to pay for that. 
Ready-made Templates are Eye-catching and Professional:
Pre-built templates provide professional designs for business. Besides that, it gives eye-catching designs with attractive backgrounds. You will get everything, whether professional or website, with gradient backgrounds and beautiful layouts like drop-down functionality and easy navigation.
You don't need to brainstorm about the designs, layouts, background, and navigation; choose a template, and it will be good to go with your business. The website builder takes care of everything because professional designers make the templates. 
Pre-built templates are easy to customize
Customizing pre-built templates is a breeze. You can modify brand colors, logos, content structure, and layout to suit your preferences. For instance, if your website struggles to draw in users or has low user engagement, you can adjust the design to increase engagement.
Ready-made Templates are SEO-friendly
Many pre-built templates provide you with SEO-friendly templates. Like Many templates are organized with structure code, Google demands websites with structure code that is easy to understand. It helps bots crawl and index your site more efficiently. 
Webifly provides mobile-responsive templates that offer a comfortable user experience on mobile devices. Our templates are designed to have good page-loading speed, so you don't need to worry about the technical structure. Our templates also have image optimization features, such as lazy loading and auto resizing. By using these features, you won't need any assistance from an SEO professional to optimize the technical aspects of your website.
Website Builder is Launched Faster:
Using a manual coding website, you must check all the abovementioned aspects. It will take time to launch, so Pre-built templates are faster to launch the website on the market.
Webifly provides custom coding, design, and layout templates. The setup is straightforward to launch. There is no requirement for testing and debugging. There is no need for SEO optimization of the technical aspects of your website. You only need to change the color and layouts according to your business.
Conclusion
In conclusion, pre-build templates are cost-efficient, SEO friendly, and give you a regular update about the latest technology. It saves your time, and you can launch it faster. You don't need to depend on others to change anything on your website. It attracts users with eye-catching templates made by professional designers. Ready-made templates help to increase user engagement. You can grow your business by investing the least amount on the website.